Welcome back. It's the Reindeer Games from Santa's Village! Today, we have the second day of our sixth event of the Games, the very popular Around-the-World race.
Our reindeer took off yesterday from the North Pole, on the first day for the Around-the-World event. The big race is the sixth event of the Reindeer Games, and it takes the reindeer all over the globe in a good warmup for their very famous trip on Christmas Eve.
For sure, on Christmas Eve, our famous reindeer will lead Santa's sleigh all around the world, hoping to bring joy to so many children everywhere. And to get the reindeer ready for the long and difficult journey, the reindeer are racing around the world, right here in the Reindeer Games, less than 2 weeks before Christmas Eve!
The Around-the-World race will last four days. Today the reindeer will race to and through Asia and Australia. And the final two legs of the race will be through South America and Central America, and finally through North America, and back to the North Pole.
Ok, let's pick up the race for today. Let's head over to our very famous host, Jim McSnowflake Elf! Jim, what's happening up there in the skies over Asia?
"Thank guys! Yes, the reindeer are now heading over China and toward Korea and Japan, and moving with great speed and style. It's been a great race so far! The reindeer are looking strong up in the air, as they fly over so many famous places. Right now, they're over Japan, one of the great countries of Asia."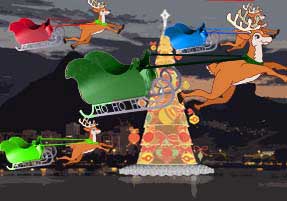 Japan, of course, is the home of the Pokemon video game and card game, perhaps a favorite game of many of our fans!
And then very quickly, our reindeer are moving toward Australia. Australia is a very interesting country for the reindeer to see. Australia has many different kinds of geography, and is one of the world's seven "continents" (along with North America, South America, Europe, Asia, Africa and Antarctica).
But sometimes Australia can also be considered the largest island in the world! In fact, it is an island continent. And the water surrounding Australia is well known for the Great Barrier Reef, which is the biggest coral reef in the world. The reef consists of more than 3,000 reefs in which live more than 350 species of corals and over 1,500 species of fish.
And right now, eight reindeer too! Yes, Dasher, Dancer, Prancer, Vixen, Comet, Cupid, Donder and Blitzen are over Australia and racing antler-to-antler in the second day of the Around-the-World race. The race is too close to call right now, as the second day of the race moves to a close!
Check back tomorrow for the next leg of the Around-the-World in the Reindeer Games – ONLY on The North Pole Times! #1 in Santa's News! Trusted Worldwide!