Welcome back to the Games, as the Obstacle Course event continues with a second day of competition. Rudolph has been working overtime to fill in for the elves, and he's put together a course that has some cones, folding chairs, a few cardboard boxes and garbage cans.
Without the elves to build a fun and challenging course, the reindeer must make do.
"I've done my best," said Rudolph. "Let's see how the reindeer race today."
And so we begin. Vixen, Comet, Blitzen, Prancer, Cupid and Dancer will make the run today, while the top four will move on to tomorrow's final.
"We're ready to go," said Rudolph.
Up first is Cupid. He's at the starting line, and he's off! Well, it's through the cones and around the garbage cans and up and over the folding chairs and through the cardboard boxes in 1.7 seconds! A very good run.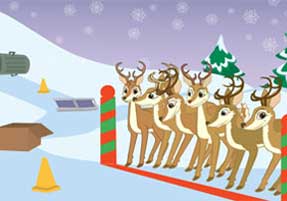 Next is Prancer, and she has an excellent run, and is through in 1.5 seconds, good for first place!
Next up is Blitzen. His run is 1.8 seconds. And then Dancer is finished in 1.6 seconds and Comet in 1.9 seconds. And finally it's Vixen. She must finish in the top four to make it to the final round. How will she fare?
Well, Vixen is off and she has a perfect run and flies through the course in a very good time of 1.5 seconds. That's a tie with Prancer for first place. So it's Vixen, Prancer, Dancer and Cupid to the final round tomorrow.
Check back to see who wins the gold.