Alright my friends, I'm back and you already know it's my favorite day of the week! "It's Terrific Task Tuesday!"
This week our fingers landed in beautiful Ocho Rios, Jamaica! The weather was perfect and the beaches were incredible. I felt like lazing around on the beach with my elf sandals, but I have way too much to do before Christmas Eve.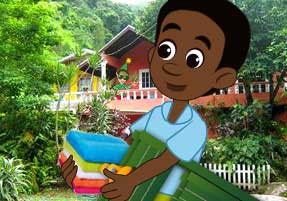 This week I went to see a young boy named Damian. Damian is an only child, but he's pretty amazing. He lives in a cozy villa near the beach. His parents run a beautiful bed and breakfast on the beach. He knows how hard his parents work to provide for him so he does little things to help out when guest come to make sure they're comfortable. He'll make sure the rooms are clean, he'll stock the rooms with extra towels and toiletries if needed, and when they leave he helps clean the rooms by taking the sheets off the beds and taking all the linen and towels to the laundry room. He loves helping his parents and he appreciates them so much! The best part of all of this is they never have to ask him for help! Isn't that wonderful!
I can't wait to tell Santa about this little helper named Damian and his incredible attitude! He definitely deserves something special under the tree.
Well guys, that's it until next week! I'll let you know where I end up and until then, keep doing Terrific Tasks!
'Til next Toomer Time,
Toomer