EDITORS NOTE: The missing Dodger-Bobber Widget is a big concern for Santa. It's a very important part of the sleigh. It doesn't dodge bobbers, it helps the sleigh to dodge and bob around obstacles during Santa's Christmas Eve flight. Without it, Santa will need to slow down considerably to avoid crashing, which may cause Christmas to run late this year.
Its Super Secret Sunday, kids! It's me, Super Secret Jack Spinner the Specialized Sleuth and my Mighty Sidekick Zachery the Cosmic Kid, and we're back on the case of the missing Dodger-Bobber Widget! With our Super Secret investigative skills, we've ruled out theft and any thought the widget simply fell off Santa's sleigh.
Remember last week we decided to head to the Who-ja-ma-whats-it Testing Grounds? Well, guess what? We're here and getting much closer to solving this case. Pretty soon Santa will have his Dodger-Bobber Widget back on his sleigh.
"Super Secret, we've scanned every roof and we still can't find it!" blurted the Cosmic Kid. "We've looked on tall roofs, short roofs, steep roofs and flat roofs. We've looked under shingles, in the gutter, around the gables and under the clutter and still no widget!"
"Hmm, you're right Cosmic Kid, but there is one area that we haven't looked," replied Super Secret as he points to a chimney, "I have a good feeling about this one."
They walk a careful few feet to the chimney so as not to slide down the roof. Super Secret starts to look around and down the roof. He then leans over to get a better look.
"Super Secret, be careful! You're leaning too far in."
"Don't worry Cosmic Kid! I got this!"
The Cosmic Kid looked on with worry, climbed down and ran inside, straight to the fireplace.
"Super Secret, how's it going up there?"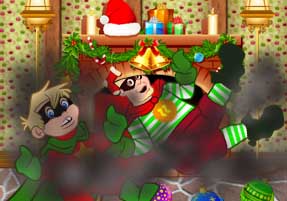 "I'm doing greeeaaaatttt...," the voice of Super Secret echoed as he fell down the chimney. When he landed at the bottom, a cloud of dust shot out at the Cosmic Kid who began coughing as he fanned away the dust. He looked at his dirty soot-faced friend whose body was a little contorted. "Are you okay?" a concerned Cosmic Kid asks.
"I'm fine, but there's no widget in the chimney, and if there was, I'm pretty sure I would have broken it!"
"Can't we just check in with Gizmo Elf?" the Cosmic Kid pleaded. "I keep telling you HE is the one who invented and maintains the widget. I'm pretty sure he may know where it is. I honestly don't believe any of the elves stole it or it fell off the sleigh or broke off during a test landing.
"Well," insisted Super Secret, "I think we should TALK with Gizmo Elf. That's what I've been thinking all along! Checking in with him will do no good if we don't TALK with him!"
Shaking his head, the Cosmic Kid sighed, "Great idea! Let's go TALK with Gizmo."
Does Gizmo Elf hold the clue to the missing widget? Will the Mighty Duo finally get on the right path to its whereabouts?
Check back next Sunday for another Super Secret search. ONLY on the North Pole Times!
Same Super Secret Time! Same Super Secret Place!