Mrs. Claus looked around at a room full of worried elves. And why shouldn't they be worried? Santa had just blasted off into space! The only way to get him back in time for Christmas would be to have the Appendapulator, the great toy-making machine of the North Pole, stop making toys and start making a rescue rocket. But if the Appendapulator isn't making toys, then Santa would have nothing to deliver on Christmas Eve! Mrs. Claus wondered if she looked as worried as the elves. What could they do?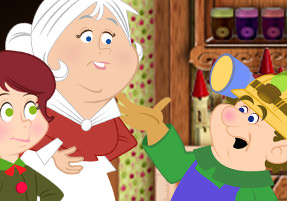 And then Mrs. Claus got an idea. "Toby Elf! Come over here!" called Mrs. Claus. A gruff-looking elf in dirty overalls came up to where Mrs. Claus stood. "What can I do for you, Mrs. C?" he asked. "You're Santa's Chief Toy-making Elf," said Mrs. Claus. "Didn't the elves make all the toys in time for Christmas without the Appendapulator for many years?"
"More years than I could count, Mrs. C" said the elf, proudly.
"Well, do you think you could do that again this year?" she asked.
"Well, I don't know," said Toby. "There's so many of those high-tech gadgets now..."
"I believe you can do it," said Mrs. Claus. "And Santa believes in you, too."
Toby pulled out a pencil and a notebook and started scribbling. "If we take into account the number of kids on the 'nice' list, multiply by the wish factor, and divide by the number of stripes on a candy cane..." Toby muttered a bit more while he scribbled in his book. "If we start right now, we'll be done with ten minutes to spare!" he said.
The elves cheered. "Well then why don't we take a ten-minute break right now for some peppermint cookies and hot chocolate?" shouted an elf? The elves all rushed off for a snack, leaving Mrs. Claus and Gizmo Elf alone in the workshop. "Well, Gizmo, looks like we've got that solved. Why don't you radio Santa and tell him what's going on?"
The Chief Inventor Elf looked even sadder than before. "I can't do that, Mrs. Claus," he said. "We still have some problems!"
What could those problems be? Keep reading The North Pole Times to find out!