Happy Holidays, everyone! We've got some great news for all believers. We are proud to announce that Santa's Post Office has been reopened. We've got a great new look with added security features to keep those nasty bah-humbug's from hijacking our accounts.
As a reminder, you can add your top three wishes from your Christmas Wish List and send them directly to Santa! If you want to add more toys and gifts afterwards, simply come back and add more or change the ones you sent. Santa will be updated straight away.
Bernard Elf will send you a SECRET PASSCODE to get your message from the Big Guy. Make sure you write it down, but keep it secret. Just come back the next day to see Santa's response.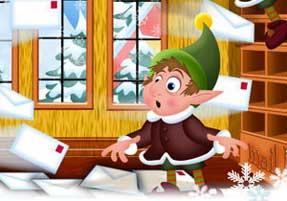 Don't be fooled by other websites that claim Santa replies instantly. Everyone knows Santa keeps REAL busy this time of year to make sure all the good boys and girls get presents on Christmas Eve. It usually takes him about 24 hours to get back to you. While you're waiting, you can go to Mrs. Claus' Kitchen and get the recipe for Santa's Favorite Cookies to make him for Christmas Eve, or check your name on the Naughty and Nice List.
Send Santa an email by Clicking Here!
Be sure to come back EVERY day to keep updated on EVERYTHING happening up here at the North Pole. ONLY on the North Pole Times! #1 in Santa's News! Trusted Worldwide!