Welcome back to the Reindeer Games! Today, we have the third day of our sixth event of the Games, the very popular Around-the-World race.
Yesterday, the reindeer made their way through Asia and Australia. And today, Dasher, Dancer, Prancer, Vixen, Comet, Cupid, Donder and Blitzen began with an amazing flight over the Indian Ocean, before heading toward Africa. Then it's over the South Atlantic Ocean and toward South America.
The race wraps up tomorrow, as the reindeer return to the North Pole. The winner of the race will take the sixth gold medal of the Reindeer Games!
Leading Santa's sleigh all across the world, with their magical flying powers, makes them so well known and much loved. And those great flying skills are what we are seeing in the Around-the-Word race! Ok, let's see where the deer are now. Let's go over to our famous host, Jim McSnowflake Elf!
"Thanks guys! Well the reindeer have made their way across the Indian Ocean and over South Africa. And after zooming across the South Atlantic Ocean, they are nearing South America. What a trip it's been so far!"
And heading to South America, the reindeer will be way above the famous countries of Chile, and Argentina, and then up the east coast, over Uruguay and Paraguay and Bolivia. And then over the enormous country of Brazil. Brazil is the largest country in South America! Almost too big to imagine!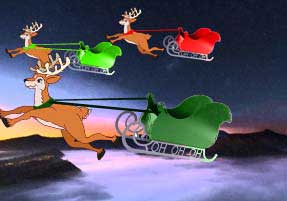 Brazil is 8.5 million square kilometers (3.2 million square miles) and has more than 200 million people! The capital is Brasília, while São Paulo has the most residents, almost 20 million!
Brazil is the largest country to have Portuguese as an official language, and the only one in the Americas.
Whew! That's a big ride for the reindeer over the very big country of Brazil. But it's on to see our friends in Peru, Ecuador, Columbia, Venezuela, and then the smaller countries of Surinam, Guyana and French Guiana too!
What a tremendous ride for the reindeer! And the last stop today for the reindeer is the Panama Canal. The canal is a very famous waterway that links the Atlantic Ocean to the Pacific Ocean. Hopefully the good people of Panama can see our reindeer now!
And that's it for today. Tomorrow the reindeer will head back to the North Pole for the finish of the big race. Check back to see what happens!