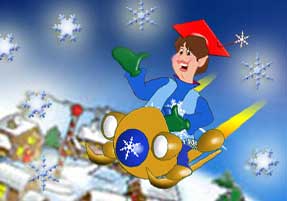 Happy Holidays everyone! I'm Professor Ellie Elf and I'm the teacher at Santa's School or Wonders here at the North Pole. What's that? You didn't know Santa's elves go to school? Of course they do – the best place to learn something new is in school, just like you and most children do, all over the world.
Welcome to our classroom. You'll see it is already decorated for Christmas, but that's no surprise, we are ALWAYS decorated for Christmas! The walls are painted in red and green candy cane stripes, and pretty crystal snowflakes hang from the ceiling, twinkling over the heads of the excited elf students.
At the School of Wonders, I teach young elves everything they need to know about Christmas. Gingerbread house design, cookie baking, gift wrapping, Christmas music, tree decorating, toy making and reindeer care are all different kinds of classes the elves must understand in order for them to do important elf jobs.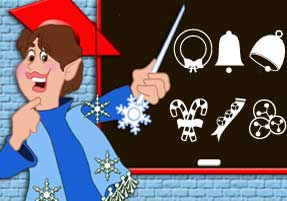 Just like children, the youngest elves have to learn to read and write. They use icicle-shaped pencils and erasers that look (and smell) like gingerbread men to practice the alphabet. Elves must be able to spell the names of good boys and girls on the gift tags of all the Christmas presents that get piled into Santa's sleigh on Christmas Eve. Other elves might even write your names on the Naughty and Nice List! Elves need to be able to read so they can help Santa answer children's letters, read all the wonderful Christmas stories and also keep up with the news by reading The North Pole Times!
Take this quick quiz to see what you learned today:
Where is the best place to learn something new:
1. At the movies
2. At the playground
3. At school
4. In a muddy swamp


How is the School of Wonders classroom decorated:
1. In orange and black colors, with spiders and bats
2. In red and green stripes, with twinkling snowflakes
3. In yellow and purple polka-dots, with brightly colored eggs
4. In red and pink ribbons, with lots of hearts


Which lesson below do the elves NOT learn:
1. Toy making
2. Gingerbread house design
3. Reindeer care
4. Pumpkin carving