Alright my friends, it's my favorite day of the week! You do know what my favorite day of the week is, right? Of course you do, it's Terrific Task Tuesday!"
Santa and I were at the globe again and you'll never guess where our fingers landed this time! I was in the beautiful city of Santorini Greece and this is by far was one of the most picturesque cities I've ever been to. I was looking at the Aegean Sea while I was there and was completely mesmerized! The whole town is made of white washed villas that sit atop of one another so there's a lot of stairs to walk up and down.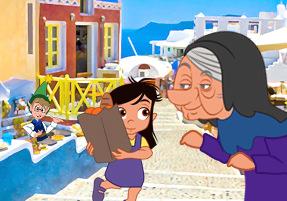 This week I went to see a young girl named Alexandra. Alexandra is such an amazing and sweet girl. Her whole family lives in the villas along the Cliffside and very close to one another. Alexandra usually waits for the elders in her family at the bottom of the villas because she knows they are coming from the market and they need help with all the bags they've accumulated. Alexandra loves to run and play so getting up and down the stairs is quite easy for her, and she's quick too. By the time her elder relatives get up the stairs, they're tired and need to rest. Alexandra will take everything out of the bags, put them away and will keep a smile on her face while doing so. And the best part of it all, they never have to ask for her help! How incredible is that!
I can't wait to tell Santa about Alexandra and her awesome attitude! He's sure to put something special for her under the tree.
Well guys, that's it until next week! I'll let you know where I end up. Until then, keep doing Terrific Tasks!
'Til next Toomer Time,
Toomer