Hello there once again kids, it's your favorite Super Secret Specialized Sleuth, Jack Spinner and my mighty side kick, Zachary the Kosmic-Kid, say Hi Zachary. "Hi Acky", Zachary said (as he giggles).
Alright so we have arrived at Mt. Kilimanjaro in Africa. It is snowy and very cold. The Mountain is very steep. What do you think Zachary? "Tall, Tall, Tall" Said Zachary. Precisely, so let's investigate.
"LOOK!" Zachary yelled. What is it Zachary? Footprints, your very observant, great job. The footprints look like YETI!!!!!!!!!!!!!!!!!!! Hey how are you Mr. Yeti? "I'm Great just waiting for Christmas to come". Well Christmas and Santa Claus is coming very soon and that is super exciting. But I think you know why we're here. We need the last part of the code; do you know where the clue is? "Yes I do, it is behind this huge boulder. For me to move the huge boulder I am going to need and answer to this Christmas riddle". We're ready Right Kosmic-Kid? "Let's do it" Kosmic-Kid Said.
"The Christmas riddle is: What do you get if you cross Santa with a detective?
HMMM… Lets see, Well I'm a sleuth which is a detective and I know Santa so… my answer is Secret Santa. "No" Said the Yeti. "One more try" says Yeti. I am going to need all of you help on tree shout out your answer. ONE! TWO! THREE!... "Santa Clues" Zachary Shouted. "That's correct great job everyone, I have moved the boulder and here is you Clue" Yeti said.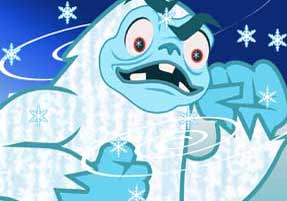 Great job Zachary the Kosmic-Kid and all my Side Kicks at home you are all Super Smart. I am going to have to give you a hug Kosmic-Kid, and a high five. And to all my side kicks at home, a high five to you as well, great job.
So the last part of the Clue is two separate series of numbers and a phrase, and the first is: 21, 5, 18, and 25. The second part is: 19, 15, 15, and 14. And then third part is your first Name which is the last part of the code…Good luck and great job. (See the code chart below)
Now you have the all the clues, So I Super Secret Jack Spinner the Specialized Sleuth and Zachary the Kosmic-Kid are heading back to the North Pole to give Santa the message from the Secret Code.
We'll see you next year so have a MERRY CHRISTMAS!!!!!!!
Code Chart: A=1, B=2, C=3,…X=24, Y=25, Z=26…Etc. (Thé Alphabet A-Z = 1-26)