As the Reindeer Games continue, our Santa Spotters are hard at work looking up toward space, hoping to find Santa and Waldo flying about in the wayward rocket ship. Well, look hard Santa Spotters, and you just might see some reindeer too.
That's because the fourth event of the Reindeer Games – the Around-the-World Marathon begins today. After three events at the North Pole, our famous reindeer now head high into the sky all over the world in a difficult four-day race.
This is always Santa's favorite event, as he wants to be sure his reindeer are ready for the Big Night. Yes, the Around-the-World Marathon is very good practice for the reindeer's Christmas Eve run.
But if Santa's watching the race this year, it'll be from up above instead of from down below.
And down below in Santa's Workshop Arena, the race is about to begin. In today's first leg of the race, the reindeer will be heading out of the Pole, down into Canada and then toward the United States.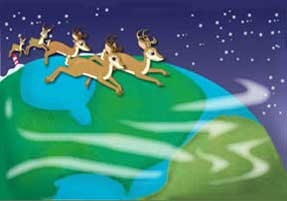 Vixen, Cupid, Dasher, Donder, Dancer, Comet, Prancer and Blitzen are all ready for the start of the race, and there's a big North Polian crowd ready to see them off. This is the first event where the reindeer can use their great flying skills, and the crowd is out to see the deer put on a super show like no other deer can.
"Ready, set …. GO!," says Manny Elf.
And there they go! Up into the air and quickly high above the North Pole. Within minutes, our deer are headed toward Canada and the great Hudson Bay, just north of Ontario and Quebec.
Our deer are heading over the bay now and soon into Quebec. Right now the race is very close, antler to antler, as they head toward the United States. And tomorrow the race will cover all of the USA!
Check back to see what happens!