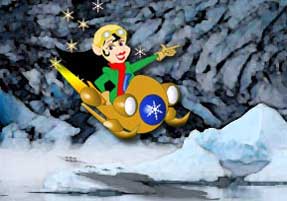 Hi kids, it' Franny back for another week of Franny Fridays!!!! Did you miss me? I missed you. I even missed where I wanted to land my sleigh this week and I landed in the South Pole by mistake! I was supposed to visit some boys and girls in Peru, but last week I asked Gizmo Elf to add some extra power to my sleigh to help search for Santa. Well Gizmo added too much power and I couldn't stop in time! Next thing I know, I'm over Antarctica, which is also called the South Pole. Oh Boy, what a mistake!
Well, I might as well stop and see if there is anyone who celebrates Christmas in Antarctica. First, did you know that almost all of Antarctica is covered by ice and it's surrounded by five oceans! No one lives here all year round, but many scientists and explorers from different countries visit throughout the year. The scientists do experiments on everything from how to stop global warming and see how penguins and seals live. Antarctica is also the coldest place on earth. BRRRRRR! I don't want to stay for long.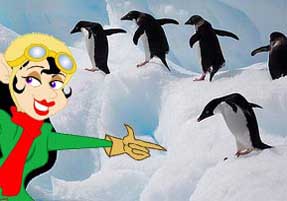 Do the scientists and explorers celebrate Christmas? You bet they do. It's summer here in December, but there is still a lot of snow and ice, it certainly feels like winter. The scientists take part of the day off and have a great Christmas meal and party. Unfortunately there's no place to buy Christmas decorations. Many people will dress up in good clothes or costumes, and many people will sing, dance and play instrument to make it feel like they are home. Many people also call home to their families in other countries. That sounds like fun!
Hopefully now that I've found out how Christmas is celebrated in the South Pole, I can find someone who can fix my sleigh, or I may not make it back to the North Pole this year. Oh no! Join me here at the North Pole Times next week to see if I can get my sleigh flying again! Bye!