Waldo, Mikee, Boone, and Randolph looked at Gizmo, waiting to hear whether the presents will be switched into the right boxes on time.
The Presentator was quickly repacking the presents while Gizmo tried to calculate the time needed to finish the job.
As you remember, dear readers, the Appendapulator didn't make the wrong presents it just packed them into the wrong boxes. Then Gizmo remembered an old invention—the Presentator—that could switch the toys inside the boxes.
However, the elves weren't sure if the Presentator could switch all many presents in enough time with Christmas so close.
Gizmo tried to calculate the estimated time by calculating endless lines of formulas and results. It seemed to take forever!
Finally, Gizmo looked up with big smile and exclaimed, "The Presentator will make it! It will repack all the presents on time!"
Oh, what a joy!
The elves hugged each other and started jumping and cheering, "Christmas is saved! Children will get their toys!"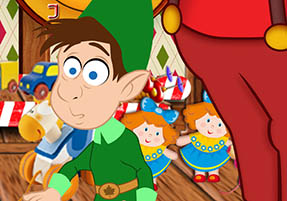 Oh no! What now?
The wonderful blue light went out.
The elves stopped celebrating and looked sadly at the Presentator. It stopped working...
"NOOOOOOOO!" they screamed.
All the eyes were on Gizmo. Could he fix it?
Gizmo looked at the present-switching machine, checked the cables, and...
It seems that one of the elves – you might have guessed who – knocked a cable out while jumping and cheering. As soon as Gizmo plugged it back in, the blue light glowed again, and the Presentator continued its magic.
What a relief.
The elves were about to leave the workshop when they heard a voice.
"Little Boo!" the voice said. "Is that you?"
What do you think, dear readers? Whose voice is it? Who recognized Boone?
Come back tomorrow to get the latest news about this mysterious story.
Right here, on the North Pole Times!
#1 in Santa's News! Trusted Worldwide.