Editor's Note: The Editors of The North Pole Times recognize that there's a lot of interest in the goings-on at Santa's Workshop in the days leading up to Christmas Eve--or as we elves like to call it: The Big Night. So we are putting our daily newspaper on-line so that you can read about how things are going. And to start us off, Santa himself has agreed to write you a note to welcome you here!
Dear Girls and Boys:
Ho Ho Ho, and Happy Holidays!
I hope all of you in the south (and remember, when you live at The North Pole, everybody lives in the south!) are doing well, and I want to wish all of you in the United States a Happy Thanksgiving! We had a delicious Thanksgiving day dinner up here. Every year, Mrs, Claus and I make a special feast for all the elves, who all show up with dishes of their own to share. Jiller Elf brought banana nut bread, Freddie Elf brought sushi (which is raw fish and vegetables wrapped in seaweed and rice--and is very, very tasty!), and Gizmo Elf brought a fruit salad.
And Waldo Elf brought his 'specialty'--strawberry and mustard pudding.
Boys and girls, if you ever have to choose between eating sushi or eating strawberry and mustard pudding, choose the sushi.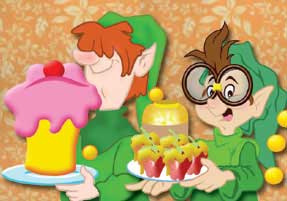 Do you think it's strange that we at The North Pole celebrate an American holiday? Well, it isn't the only holiday we celebrate: We also celebrated Canadian Thanksgiving, which is held on the second Monday in October, and we celebrated the French Bastille Day in July--and we even celebrated Ferragosto with the Italians in August. We pretty much celebrate everyone's holidays everywhere--it keeps us in the holiday spirit all year round, ho ho ho!
And here's another reason for celebration: I got a Yeti Letter today! I'll bet you've never heard of a Yeti Letter, have you? Well, here at the North Pole, most of the mail we get are the Christmas Lists you Boys and Girls write us (have you written yours yet?). But sometimes, someone needs to get a very important letter to us, and to do that, they give their letter to a Yeti--also known as an Abominable Snowman! If you ever meet a Yeti, give him a letter addressed to me, and he'll bring it right to me.
This Yeti Letter was from the grand-daughter of Ha'penny Elf. Years and years ago, when your grandma's mother was a little girl, Ha'penny Elf fell in love with a human, and left The North Pole. Now, Ha'penny's granddaughter is all grown up, with a son of her own, and they're coming to visit us this week! I'm looking forward to meeting them, and you'll be able to read all about their visit, the next time you visit The North Pole TImes!
Ho Ho Ho!
Santa