The Christmas season at the North Pole has officially begun. After a busy day, all the elves gathered in the dining room to spend Thanksgiving night together. Tired and hungry, they couldn't wait for the delicious feast Mrs. Claus had prepared for them.
"I'm starving," Waldo cried, rubbing his growling tummy. He reached for the banana bread, but Toby grabbed it first.
"Move!"
Toby snatched the yummy bread and gobbled it down in one bite. He also ate the figgy pudding, the applesauce cake, and a whole bunch of fruit-flavored candy. Toby ate so much that he had to unbuckle his suspenders.
"I'm full," he said, sitting back in his chair.
Suddenly, from the corner of his eye, Toby noticed something move. He turned quickly and saw a cherry pie on the table. Toby shrugged and kept doing nothing.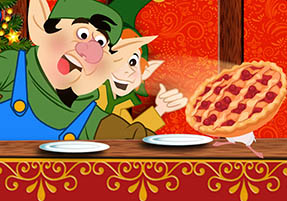 But the wiggling started again. Toby glanced at the cherry pie, but this time it wasn't in the middle but at the end of the table.
"How strange," the elf thought and jumped to his feet. "I swear on all the toys and Christmas presents that pie has moved."
He stared at the pie, not wanting to lose sight of it. And after a while, just as Toby thought he was losing his mind, the cherry pie jumps on the chair.
"I knew it!" Toby exclaimed.
Under the chair and across the carpet, Toby followed the cherry pie. He was so eager to find out what made the pie run that he built a pillow trap. And when the running treat hit the cushioned wall, Toby grabbed and lifted the pie.
What causes the cherry pie to scurry across the floor? Find out tomorrow, ONLY on the North Pole Times.
#1 in Santa's News! Trusted Worldwide!