Last week we left our Mighty Duo in a tangled heap outside Edinburgh Airport, where they'd crashed old Bessie the WWI bi-plane in their search for Santa's missing, magical glove…
"Oh, no!" Jack moaned, "I think it's broken!"
"What is?" Zach pulled himself from the wreckage, rushing to Jack's aid. He was rolling around, a pained look on his face.
"My… my emergency cookie! I saved it all this time! Homemade by Mrs Claus. Smashed to pieces…"
Once he'd confirmed they were both free of any serious injury, Zach began to think.
"How will we find this glove? Where do we start? Christmas is in real danger, we're running out of time!"
Jack was too busy mourning about his broken treat to pay attention.
"What exactly did Santa say to you?"
"He didn't say anything. He just left me this note…"
Jack fished a crumpled piece of paper out of his pocket. It was smudged from their time in the water and a bit sticky from the cookie, but Zach could just make out Santa's writing:
Dropped glove flying over UK last Christmas Eve. Need you to retrieve URGENTLY from Big Ben.
"Who's Big Ben? It must be code…extremely top secret…"
"Jack, we need to catch a plane, NOW!"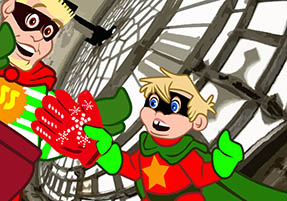 A bewildered Jack Spinner followed his trusty sidekick through Edinburgh Airport and onto a plane at record speed. The plane had taken off before he had a chance to ask, "Why are we flying to London? The glove could be anywhere. We should be doing some serious sleuthing right now."
"Big Ben isn't a code signature. It's a location. There's a clock tower in London and that's it's name!"
"I knew it! I was just about to say that."
Jack rejoiced when the Kid found the missing glove inside the clock tower.
"Another case solved! You're very lucky, Kid, to be learning the sleuthing trade from such a pro."
But Zach had other things on his mind. He looked at the glove, big and warm in his small hand.
"How are we going to get all the way home in time for Christmas? We found the glove but… is it too late?" wondered Jack.
"It's magic!" the Kid responded as he took placed the glove aside of his nose.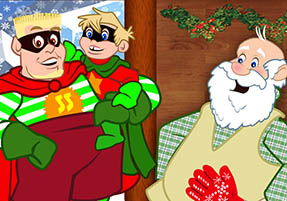 In a blink, the glove had transported the Mighty Duo back to their North Pole headquarters. The Mighty Duo then delivered the magic glove to Santa himself.
"I found your glove, sir." announced Super Secret Jack Spinner, proudly. I came up with a plan, followed it through, and solved another case!"
"Ho, ho, ho. I'm sure Zach was able to help; yes?" inquired Santa while winking at the Kosmic Kid.
"He had a couple suggestions that I took into consideration, but he's learning." Jack responded while patting Zach on the head. "Stick with me Kid. You've got a ways to go yet, but you'll get there."
Once again Super Secret Jack Spinner the Specialized Sleuth and his Mighty Sidekick Zachery the Kosmic Kid solved the Super Secret case.
Will there be another Super Secret Case next year? Will Santa need the incredible skills of this Mighty Duo?
Check back next season to find out!
Same Super Secret Time! Same Super Secret Place!