Dear readers, the virus was deactivated!
As you remember, Boone tried to deactivate it with his magic words but failed. The magic didn't work.
However, when Waldo, Mikee, Gizmo, and Randolph took each other's hands – and a horn – the chain of friendship activated the magic of Boone's now warm heart!
The magic deactivated the virus, and the things at Santa's village were back to normal.
Waldo, Mikee, and Gizmo were jumping with joy!
But when Waldo looked at Boone and said, "What...? What happened to you?" Gizmo, Mikee, and Randolph turned around, in shock. They didn't recognize the elf standing next to them!
"Why are you looking at me like that?" A surprised Boone asked. "It's me, Boone!"
"Your speech!!! Your looks!!!" the elves couldn't believe their eyes nor ears.
As soon as Boone deactivated the virus, he turned into a tall, handsome elf!
There was no trace of the spooky creature with a squeaky voice and bad grammar.
Dear readers, I can't tell you for sure what caused this transformation – the power of friendship that activated Boone's heart, Boone's wish to save Christmas like his parents, the magic of Christmas, or all of the above – but Boone became a real Warm Heart Elf!
"I've saved Christmas and become handsome! What a day!" Boone exclaimed.
I agree, dear readers, what a day! But...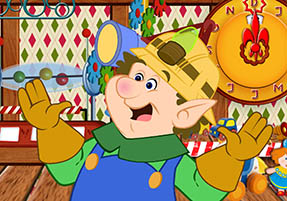 "I'm afraid it will take more magic to save Christmas," Gizmo said.
Yes, Gizmo was right. The Appendapulator stopped making wrong toys but had already made so many that were.
There's little time until Christmas Eve. Not even the world's greatest toy-making machine could make enough good toys in less than a week!
"There must be something I can do!" blurted Boone. "Let's check the Appendapulator!"
What do you think, dear readers? Does Boone have even more magic? Can he find a way to make enough toys?
Keep reading the North Pole Times to find out!
#1 in Santa's News! Trusted Worldwide!