The doors to the Wrapping Room swung open, and Bernard Elf walked into the room, followed closely by a number of other Elves. The room looked as empty as it did on Monday, which is a bad thing, because it was supposed to be full of presents waiting to be wrapped and put into Santa's sleigh. The Elves had searched all over the NorthPole looking for the gifts, but they could not find them.
"Looks like an empty room," said Bernard, Santa's Number 1 Elf, "but looks can be deceiving!"
And with that, Bernard stuck his hands out in front of himself, and walked towards the back of the huge hall. About five paces later, there was a small 'thump' and Bernard said "Oof!" and stopped walking. He smiled.
"It's just as I suspected," said Bernard. He reached out, and lifted up an armload of nothing. "Gizmo: what was Waldo doing last weekend with the appendapulator?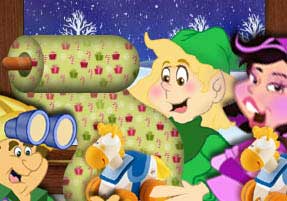 "Well, he and that new lady Elf Teema came in with some invisible tape--you know, the kind you use when you're wrapping presents--and some wrapping paper," said the inventing Elf. "He wanted to make wrapping paper that stuck all by itself."
"Well, I think he did just that," said Bernard. "But since he used invisible tape..." Bernard reached up and pulled at something. There was a ripping sound, and all of a sudden the head of a toy horse hung in the air in front of him. "...he made invisible wrapping paper!"
Holly giggled. "You mean the presents were here all the time?"
"So it seems!" said Gizmo, and he and the other Elves started removing the invisible paper. Soon, the room was filled again with all sorts of toys and Christmas gifts. They would all have to be rewrapped with regular wrapping paper, but that's better than having no presents at all!"
"There's just one thing I need to know about this invisible paper," said Ali Elf. "How will we know if we've picked it all up?" At that, all the Elves laughed and had fun wrapping presents for the rest of the day!
And the one paper you should pick up every day is The North Pole Times! Keep reading for more North Pole adventures!