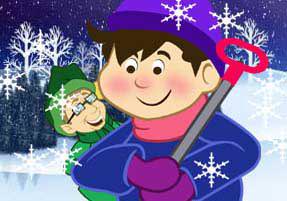 Hello folks!
As you've probably read already, things are starting to get busy for all of us on Santa's Team here at the North Pole. But, whilst most of the work is done from North Pole H.Q, I'm fortunate enough to spend a lot of my time travelling all over the world. In fact, I cover the same distance that Santa does, except I have a whole year to do it and he manages to whizz through it in a night in Pole position.
As I told you last week, my job is normally to make a list of children who have been good. This year Santa has asked me to look for the Xtra Good Factor in children who do terrific tasks without being asked.
This week's highlights have included spotting Erik from Norway helping his elderly neighbour by digging a path through the snow to her front door and Maria from Mexico who made a beautiful 'Get Well Soon' card for her mother.
There's also another terrific task I wanted to tell you all about… It's a bit unusual because it hasn't happened yet, but my Elf Sense tells me that it's only a matter of time. It concerns a little girl who I know reads the North Pole Times - I won't mention any names or places because I don't want to embarrass her!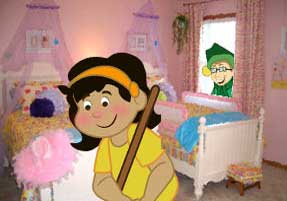 This particular little girl's bedroom is a pig sty. Actually that's being rude - not to the girl, but to pigs! They'd be shocked to have to share a room with smelly socks and empty chip wrappers that have been under the bed for weeks! Sound familiar? It could be you!!
Anyway, this coming week I have had information from my assistants that she is going to tidy that room without being asked. The "tidy that room" bit of the sentence gets her name on my Terrific Task list, but the "without being asked" bit means that she's also got the Xtra Good Factor. Santa will get to hear about this!
I can't mention who it is or where they are, but if it's you watch out! If you spin around as you put that last smelly sock out for washing, you might just see the hat of a friendly elf (with a peg on his nose!) disappearing round the corner…
But if I'm too quick for you, don't worry. I've noticed your Terrific Task and Santa will definitely pay you a visit on Christmas Eve night. He'll be delighted he doesn't have to face that pile of old socks for another year…
I'll be back again next week with more great tasks and good turns… In the meantime - have you got the Xtra Good Factor?