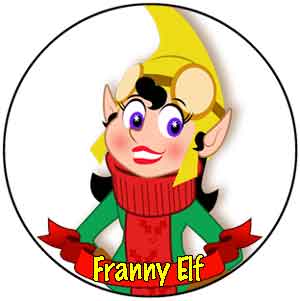 Fly-About Franny Elf loves to fly. She also loves history and culture AND, of course, Christmas! She holds a Masters Degree both in History and Cultural Studies from the Elf Academy at the School of Wonders.
When you put all these together, you have Fly-About Franny Fridays.
Every Friday during the holiday season, Franny flies around the globe and reports on how different countries and cultures celebrate Christmas. Did you know in some countries Christmas is in the beginning of summertime or that some cultures eat eat sushi for Christmas dinner?
From Antartica to New Zealand, Franny will fill you in on the really neat ways our friends around the world celebrate the holidays.
Waldo Elf is a gentle and lovable Elf at the North Pole who often causes problems that sometimes puts Christmas in jeopardy.
Elvin Elf is the Editor in Chief of the North Pole Times. Always on the go, always on a deadline.
Eugene Elf is Head Reporter of the North Pole Times. Elvin's right-hand elf.
Jiller Elf is a part-time Reporter at the North Pole Times.
Sports reporter for the North Pole Times. Timbo is a sports nut. He saw the Reindeer Games as a little elf, and fell in love with them.
"If something's broken, fix it. If something's not broken, tinker with it anyhow." That's the motto of Gizmo Elf, inventor extraordinaire.
Eddie Elf has been a Columnist for the North Pole Times for several years. He writes weekly "EDitorials" on "wEDnesday" on various Christmas-related topics.
Years ago Santa commissioned Toomer the task of traveling the world and report back to him on the good deeds kids do around the holidays.
Professor Ellie Elf loves teach about all things Christmas. She's specializes in math and quantum physics but enjoys the less complicated lessons as well.