Dear Boys and Girls, and All Who Hold Christmas Dear, no matter how old:
Merry Christmas! I hope you like the presents I brought for you! I enjoyed giving them to you, and seeing how beautiful your houses and apartments have been decorated! And I also liked all the snacks that were left for me! Ho ho ho! There were a lot of interesting and tasty treats left out for me!
Have you had a good day so far? What's been your most favorite part so far? What was the gift that you got that you liked the best? I hope you appreciate the love and care that was put into getting those presents for you. It's because you are special that Christmas is so special!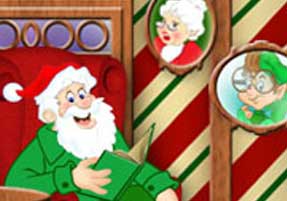 I'm about to go give Mrs. Claus her Christmas present. I got her a journal (that's a blank book that she can write in every day--she loves to write) and a very nice pen. I also got her a sweater, and a new set of measuring cups for her kitchen. I know she has some stuff to give me as well! Yes, even Santa gets excited about getting presents at Christmas!
It has been my honor and pleasure to bring you gifts this year, and I hope to have the chance to write you again next year, when the sorties of my adventures will be told, as they always are, by The North Pole Times!
A very BIG thank you to all my helper elves, especially the authors of the North Pole Times: Elvin Elf, Eugene Elf, Jiller Elf, Timbo Elf, Toomer Elf, Eddie Elf, Franny Elf, Professor Ellie Elf, and our wonderful friends, Super Secret Jack Spinner and his mighty sidekick Zachery the Cosmic Kid!
Oh... let's not forget the most famous elf of them all - Waldo Elf!
Merry Christmas everyone!
Santa Claus