Newsroom Staff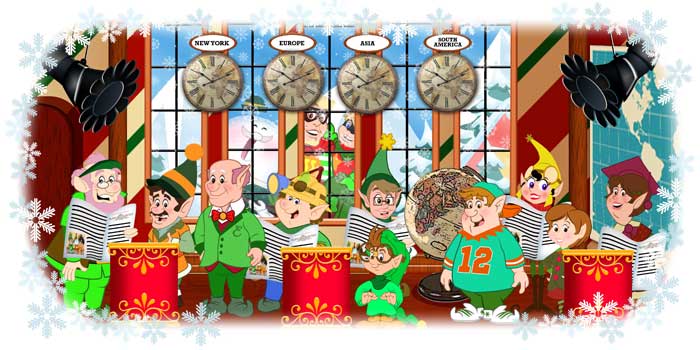 Staff Biographies
---
Waldo Elf is a gentle and lovable Elf at the North Pole who often causes problems that sometimes puts Christmas in jeopardy.
Elvin Elf is the Editor in Chief of the North Pole Times. Always on the go, always on a deadline.
Eugene Elf is Head Reporter of the North Pole Times. Elvin's right-hand elf.
Years ago Santa commissioned Toomer the task of traveling the world and report back to him on the good deeds kids do around the holidays.
"If something's broken, fix it. If something's not broken, tinker with it anyhow." That's the motto of Gizmo Elf, inventor extraordinaire.
Sports reporter for the North Pole Times. Timbo is a sports nut. He saw the Reindeer Games as a little elf, and fell in love with them.
Eddie Elf has been a Columnist for the North Pole Times for several years. He writes weekly "EDitorials" on "wEDnesday" on various Christmas-related topics.
Jiller Elf is a part-time Reporter at the North Pole Times.
Professor Ellie Elf loves teach about all things Christmas. She's specializes in math and quantum physics but enjoys the less complicated lessons as well.

Toomer's Hills are Alive!
Once again, Santa and I were at the globe again and our fingers landed on an amazing place: Salzburg Austria!

Christmas Gifts Abound
This week, I wanted to talk about what you "get" for Christmas.

Close to the North Pole in Iceland
Hi kids, this week I decided to visit some friends of mine to help me with my report to Santa.

Creating a Gift with Words
This week we're putting pencils to paper to make a special, homemade gift!

Santa's Wandering Widget Causes Worry
Remember last week we decided to head to the Who-ja-ma-whats-it Testing Grounds? Well, guess what?