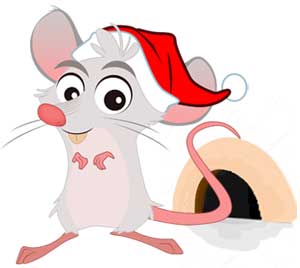 Hi Kids,
ChrisMouse is my name and hiding is my game. (Tee-hee-hee)
You've heard "...not a creature was stirring, not even a mouse," right? Well I'm here to tell ya that I'm pretty active on the night before Christmas. In fact, I'm pretty active right here on this website.
When I'm not hunting for food, I like to play a good game of Hide and Seek. Would you like to play? I'll hide, you try to catch me.
Here are some Hints:
Wherever you see me, CLICK on me. I make letters fly in the Post Office, machines run in the Workshop and other magic throughout the website.
To catch me, just click on me and I'll let you know how many times you did.
Look for me at the bottom of any page on the site. You never know where I'll turn up next.
I may be in the Story Room one second and then run through the walls to the Workshop the next.
You may find me in Mrs. Claus' Kitchen (yum,) on one of her recipes, or hanging with Rudolph in the Reindeer Barn.
If you don't see me on a page, refresh it or come back later and move on to another page... ANY page.
Are you ready?
You're it!
Happy hunting.
Merry ChrisMouse!