August is a very special time at the North Pole. While the elves enjoy the last full month of summer, as the high temperature can sometimes reach up to 41° F, they also start to prepare for the colder months of Autumn and Winter. As they gear up for the busy season, where working together allows them to create unbelievable Christmas magic, they spend August reflecting on the friendships that make the North Pole so special.
While the elves always value their friendships, the creation of Friendship Day in 1919 was just the excuse they needed to celebrate these special connections. World Friendship Day is celebrated on the first Sunday of August. But at the North Pole, it's a month-long celebration!
Friendship day was first celebrated in 1919 by a card company that hoped to sell greeting cards for the occasion. But the elves took that idea and ran with it… as you can imagine, they like holidays. The Beatles Song, "A Little Help From My Friends" was released on Friendship Day in 1967. So the elves have deemed it the official carol of Friendship Day. They sing it, and they play versions of the song with their bells too!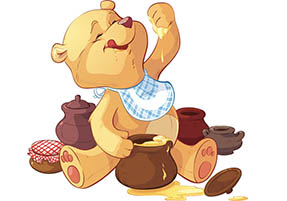 A few years after that, in 1998, a mascot was named for this special day. Winnie the Pooh was named the ambassador of friendship! So it is not unusual to see Winnie the Pooh decorations around town, and in the homes of the elves. Beyond the frills of friendship day, the elves want to make sure that all of their friends feel appreciated. They write each other little notes, exchange cards and even deliver little gifts and baked goods all month. The elves will gather for group dinners throughout the month. Everyone brings a dish to share. But before anyone begins to eat, the elves take turns telling everyone what they like about their friends.
Santa gets in on the act too! During this month of friendship, Santa shows his appreciation for all of his friends that help him make his big journey on Christmas day. Each day he walks out to the stables to give special treats, like red apples, carrots or even sugar cubes, to his reindeer friends. The elves get special candy canes. Have you noticed lately that there are many new flavors of candy canes? Santa and Mrs. Claus wanted to deliver different flavors of candy throughout the month of August to the elves in their town, so they have gotten pretty creative, even making a pickle flavored candy cane!! Ewww. Although word is, this year, they have decided that flavor should be reserved for April Fools Day. So make sure you don't let August go by without showing your friends how much you appreciate them!