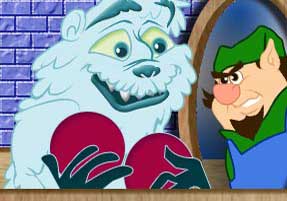 There was a commotion in the workshop.That's not unusual in the weeks before Christmas. Elves are usually bustling around, making toys, wrapping presents, filling Santa's sack...
But this is not a typical Christmas season. There is no Santa. He's up in orbit with Waldo Elf. And there are no elves. They are on strike because Mrs. Claus replaced their sugary snacks with fruits and vegetables.
This year the ruckus was caused by Yeti, also known as Abominable Snowmen. Mrs. Claus hired them to make toys while the elves were protesting. It did not go very well.
"It's not going very well, Mrs. C," said Toby Elf. He, Jiller Elf and Mrs. Claus stood at the door to Santa's office, watching as the huge creatures tried to make small toys.
"Oh, my," said Mrs. Claus. "I'd say that's not really true Toby. It's a lot worse than 'not going very well!'"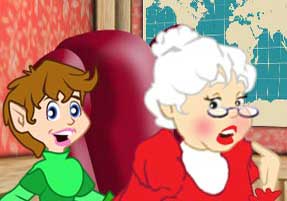 "It seems like the only thing the Yeti can do is take one toy, and make two half-toys out of it!" said Jiller Elf. "I think we need to stop them, before the do any more damage!"
Mrs. Claus walked slowly back into the office, and sat down. A tear appeard in the corner of her eye. "I'm at my wits' end," she said. "I have no idea what to do next. I wish that Santa was here to tell me what to do!"
Just then Bernard Elf rushed into the office. "You've got an email, Mrs. Claus!" he shouted. "It's from Santa!"
What will Santa tell her? Will it make her happy? Will it save Christmas? Will it keep more toys from getting broken? Keep reading The North Pole Times to find out!