Welcome to May in the North Pole. The elves are excited because there is usually a big temperature jump in May. In May, temperatures average between 15° F to 24° F! If that doesn't sound warm to you, keep in mind that April's low is around -10° F. So anything over zero is a reason to celebrate!
May Day! May Day!
No, the elves aren't calling for help! They are celebrating May Day. Throughout history May Day has been a celebration of Spring's arrival. And so, being global citizens, the elves like to combine their celebrations. For instance, Beltane was a May Day celebration embraced by the Celts of the British Isles. In their culture, the year was cut in half, one half was dark. May 1st was when the light began. So it was considered the most important day of the year. When the Romans took over the British Isles, they brought the Floralia festival with them. This festival's five-day celebration honored Flora, the goddess of the flowers, and it always took place over May1st.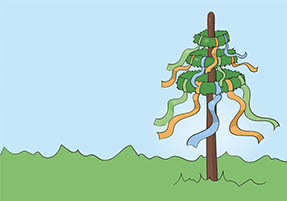 Then there is the elves favorite part of May Day celebrations: The May Pole. No one knows for certain how this celebration started. But it is full of fun, and dancing!. The elves set up a pole (even if there is still snow on the ground) and dance around it weaving colorful flowers and ribbons to celebrate the bright colors spring represents. After a long winter, the poles' colors bring a new energy to the North Pole, and the excitement can be felt throughout the village. And if you were curious if May Day has any relationship to mayday (which is an international distress code), it is merely a coincidence. Mayday was a shortened version of "m'aider", a French phrase that means "help me".
Cinco de Mayo
Translated to English it means the 5th of May. It is the anniversary of the Mexican Army's victory over the French Empire at the Battle of Puebla in 1862. And while it is a celebration of a battle won in Mexico, it is more of an American holiday. It was first celebrated in 1863 in California! You see, the Civil War was going on at the time in the United States. And California had been part of the Republic of Mexico until 1848. That was only 15 years earlier. So many Mexicans living in California were lamenting that both Mexico and the Union seemed to be fighting much more powerful armies. So when the Mexican Army overpowered the French in that battle on May 5th, it gave the Lationos in California renewed hope for the future in both countries. Many celebrations in the US have wandered from this original intent. So the elves like to make sure they honor the spirit of Cinco De Mayo by telling each other stories of hope, or sharing stories they find about the table.