Uh-oh boys and girls. I had some trouble with my sleigh after I left Iceland a few days ago. I was flying over Europe when I crash landed somewhere in Germany. Luckily I landed near some railroad tracks and got picked up by the nice train engineers. Now I'm on the Orient Express train to Paris, France. The Orient Express is one of the oldest running trains and is very fancy. It's been the setting of a lot of spooky spy movies too!
Since I'm in France, I thought I'd tell you how the French celebrate Christmas. In France Christmas is all about being with your family, and seeing relatives you haven't seen in a long time. The children call Santa Claus "Pere Noel" and leave their shoes by the fireplace for him to fill them with gifts. Pere also leaves small toys, candy and fruit hanging from the branches of the Christmas tree.
French children also look forward to a large Christmas feast, called "Le Réveillon". Most families have this late at night on Christmas Eve. Especially delicious is the white pudding and the dessert, a log-shaped cake made of chocolate and chestnuts. Also on Christmas Eve candles are used to light up old fashioned cathedrals that play Christmas songs using the church bells. When the children go to bed, they leave a fire burning to light the way for any visitors who stop by. I have to remind Santa not to go down the chimney here!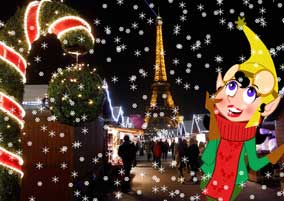 Before Christmas, most families put up a Christmas tree, and hang up apples, paper flowers and ribbons. They also put up a little decoration called a creche. This is made up of little saints, shepherds and local famous people! Maybe someone will make a figurine of me!
Hopefully when I get to Paris, I can have my sleigh repaired. I also hope I was able to help Santa so that on Christmas Eve he can deliver the right gifts to all the world's children. This is the last Franny's Friday before Christmas, so it's time for me to say goodbye. I hope all you boys and girls enjoyed travelling with me this year. Be good and I'll see you next year!