With just 20 days 'til Christmas Eve, the North Pole is as busy as it's ever been! Especially since the Appendapulator--the great toymaking machine of The North Pole--isn't making toys. Instead, Gizmo Elf's greatest invention is being used to build a rescue rocket, because Santa Claus is in orbit right now! (for the full story, go to our archives below this story.)
So all the elves are working very, very hard to make toys for the kids on Santa's 'Nice' list. "We've got every elf we can find working on making toys, Mrs. Claus," said Toby, Santa's Chief Toymaking elf. "They're all working as hard as they can!"
"I'm so glad," said Mrs. Claus, as she watched an elf roll a big cart full of cookies and candy past her. "Are there lots of kids asking for candy this year?"
Toby checked his lists. "Not many, Mrs. C," he said. "Why do you ask?"
"I was wondering where that big cart of treats was going," she replied.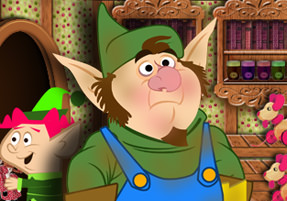 "Why, those are for the elves!" said Toby. "They always like to have a snack when they're working this hard," Toby yawned. "Cookies and candy give us an energy boost!"
Mrs. Claus looked around the workshop. She could see many elves working very hard, but she also saw many elves yawning and stretching. "Hmm," she wondered aloud. "All that sugar does give them energy, but then they all seem to get very tired soon after. I wonder if there's something I can do to fix that..."
What do you think Mrs. Claus plans on doing? Will the elves make enough toys by Christmas Eve? And will Santa make it back in time to deliver them? Keep reading The North Pole Times every day to find out!