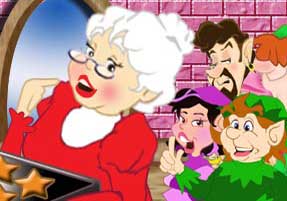 Mrs. Claus stood in front of the elves, who stood in front of the workshop, protest signs in hand. "This has been a hard week," Mrs. Claus began. "It's been a hard month!" one of the elves called back. "I know," said Mrs. Claus. "With Santa stuck in orbit, and you all on strike, it's been very difficult for everyone."
She picked up a big tray, covered with a cloth. "I know you didn't like the fruits and vegetables I was making you eat instead of the candy and cakes you were used to, but those sweets were making you tired, and you weren't making the toys." She motioned to Jiller Elf, who was standing next to her. She picked up another tray, also covered with a cloth. "So I'm going to make a suggestion." She lifted the cloth from her tray. On it were carrots, celery, radishes and beans. And Jiller took the cloth from her tray, which was loaded with chocolates, caramels, cookies, and cakes. "You can have your cakes, cookies and candy... AFTER you eat your vegetables. How's that sound?"
The elves looked at each other, then at Mrs. Claus. Then they put down their signs and cheered! The strike was over!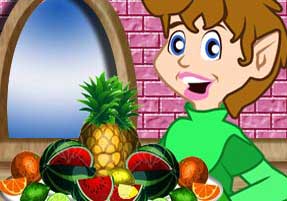 As the elves rushed back into the workshop, some of the elves thanked Mrs. Claus. One of them even said "to tell you the truth, I kind of like snap peas better than lemon balls--but don't tell anyone!"
"It will be our secret," said Mrs. Claus smiling.
Later that day, Toby Elf came to see Mrs. Claus. "The elves are working harder and faster than I've ever seen them!" he said. "We're actually ahead of schedule!"
"That's great news," said Mrs. Claus. "Now, all we need to do is get Santa back from orbit, and we'll be able to have a Merry Christmas!"
Something tells me that this won't be easy! Keep reading The North Pole Times to see what happens next!