July is one of the few months of the year that the elves get to enjoy above freezing temperatures on a normal basis (although there are always a few days that dip back to normal). So it is a great month to spend time outside, enjoying fireworks and festivities! Because the elves of the North Pole consider themselves global citizens, they enjoy celebrating all of the national holidays! And in July there are a lot!!
July 1st!
We start the month off with a bang since five countries celebrate their independence day on July 1st! Canada, Rwanda, Somali, Hong Kong, and Burundi. With so many different cultures and traditions to celebrate, the elves host a feast featuring some of each country's delicacies. The Canadian table usually offers poutine and smoked meats. To celebrate Rwanda, the elves feast on akabenzi (pan-fried pork) and plantains. Somalia's table features breakfast foods, including canjeero and canjeelo (breads that resemble pancakes). To celebrate Hong Kong, this country's table has an array of rice and noodles as well as congee (a type of porridge). The Burundi table pays tribute to the bounty of crops grown there, in particular red kidney beans.
July 4th
On July 4th, 1776 the Second Continental Congress in the United States of America adopted the Declaration of Independence. Thus making the 4th of July its Independence Day. The elves remember the first 4th of July celebration, and try to honor that celebration every year. In 1777, Independence Day was first celebrated in Philadelphia. The celebration included bonfires, bells and fireworks! The reindeer share their bells for the party. But the fireworks tend to startle them! So the elves have found quieter fireworks so everyone can enjoy the day!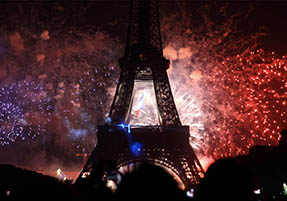 July 14
Bastille Day in France marks the fall of a giant fortress, Bastille, which served as a state prison. This action is seen as the beginning of the French Revolution, where French citizens overthrew the monarchy. In Paris you will find parties in the street and fireworks. So the elves, inspired by these parties, host gatherings in the streets of the North Pole too!
Christmas in July
While this tradition started south of the North Pole (as an excuse for stores to have sales), the elves were delighted to have an excuse to honor their favorite holiday! They like to use it as a test run. So their Christmas in July celebration is full of games and contests! They include:
Christmas Cookie Baking Contest
Gingerbread House Construction Contest
Gift wrapping contest (with categories for fastest wrapper and the most creative)
Try to guess the toy that will show up the most on kids wish lists!
It is a great way for the elves to sharpen their skills as they gear up for the pre-holiday workshop season!