After a series of booby traps and carrot snacks, the Mighty Duo continues to investigate the case of the sabotaged sewing machine.
By the time the Mighty Duo got all the way back around Santa's house, the magic carrots wore off causing Super Secret to come crashing down.
KA-BLAM!
The thunderous crash shook the ground like a mini earthquake.
SMASH!
A mountain of snow slid from Santa's roof and completely buried the specialized sleuth. Invisible underneath the huge pile of snow, Kosmic Kid could hear the muffled words of Super Secret; "ANOTHER booby trap! We're definitely getting close, I just know it!"
Kosmic Kid seized the opportunity, "Super, I really think we should be going inside the house to-"
Super Secret erupted from the mound of snow, "We've got to follow those tracks. They'll lead us directly to that dastardly villain, I'm sure of it!"
The footsteps in the snow criss-crossed over the ground, turned round and round in circles, zig-zagged this way and that and, eventually, led directly to none other than... Mrs Claus herself!
She was wearing heavy gloves, using enormous garden shears to delicately snip the ends off some icicles on the window pane.
"So beautiful, but I wouldn't want anyone getting hurt on these sharp edges. How are you doing, my dears and WHAT ON EARTH IS THAT SMELL?!"
Kosmic Kid replied, quietly, "We were looking for clues in the reindeer barn." This was all Mrs Claus needed to hear.
"Ah yes. Come in straight away and I'll give those clothes a spin in the washing machine, my dear."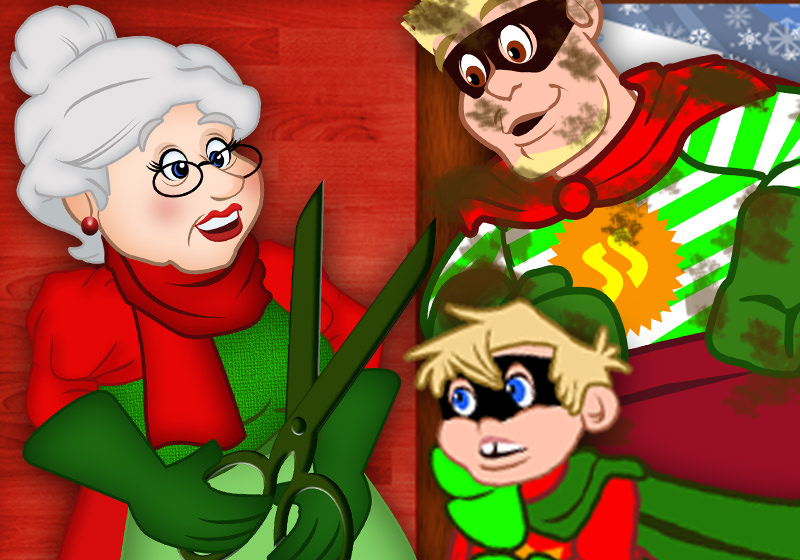 Soon, Kosmic Kid and Super Secret were at the kitchen table, drinking cocoa and eating spicy gingerbread cookies. The smelly clothes spun in the washing machine. Super Secret wore a warm, fluffy pink throw gown which Mrs Claus had insisted he borrow.
Kosmic Kid cleared his throat to ask a question, "Mrs C, we are of course going to get to the bottom of this Super Secret Case, but... why can't Santa wear last year's magical suit?"
Mrs Claus laughed, "First of all, the suit's covered in soot. Secondly, if I wanted to use the same suit every year I'd have to count all the treats he eats! Between you and me, that's hard enough at home but what about Christmas Eve? Cookies in America, fruitcake in Chile. Mince pies in England! Beer in Australia! I've always made a new, made-to-measure, magical suit every year."
Kosmic Kid nodded. "Mrs Claus, what were you doing this morning, before you discovered the sewing machine was broken? There may be a simple solution to the-"
Super Secret loudly interrupted, "Yes, we're here to interview you! Anything you can tell us could lead us straight to our criminal."
Mrs Claus nodded, "Just let me make some more cocoa before I tell you boys what happened..."
Will the case of the sabotaged sewing machine finally be solved? Will Santa ever stop snacking? Will Super Secret ever get out of the fluffy pink throw? Find the answers to some of these questions next Sunday. Same Super Secret time! Same Super Secret place!