Get ready for another fun-filled adventure at Santa's Village at the North Pole.
The North Pole Times is the OFFICIAL news source at the North Pole keeping you updated EVERYDAY from Thanksgiving Day through Christmas. Santa's elves are busy getting everything set – from toy making to packing the sleigh.
See what's happening at Santa's Village as it happens. No need to guess or wonder, the North Pole Times will be covering ALL the stories behind the scenes as they happen. In addition to the news, Timbo Elf will keep you up to date on how the reindeer are doing during the Reindeer Games as they get in shape for the Big Night.
Toomer Elf will report on the top good deeds by kids on Terrific Task Tuesdays. Read Eddie Elf's EDitorials every wEDnesday and follow Franny Elf as she travels the world reporting how other countries celebrate the holidays on Fly-About Franny Fridays.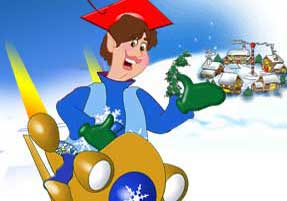 Get an inside look at Elf school from Professor Ellie Elf's report on Saturday's School of Wonders and don't forget to follow Super Secret Jack Spinner the Specialized Sleuth and his mighty side-kick Zachery the Cosmic Kid as they solve some of the most difficult mysteries on Super Secret Sundays.
All the news as it happens beginning Thanksgiving Day right here on the North Pole Times!
#1 in Santa's News! Trusted Worldwide!