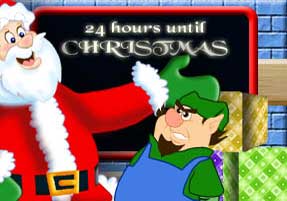 Have you ever seen a group of elves do a month's worth of work in one day? It's an impressive sight! Presents were wrapped and sorted, and stuffed into Santa's magical sack for the trip around the world on Christmas Eve! All the reindeer were fed, cleaned and brushed. Their harnesses were polished and the bells were all jingly. The sleigh was polished until it looked like it gleamed from within.
"A much better way to fly, than a space ship, I must say," said Santa, as he watched the elves getting everything ready to go.
"Yup," agreed Waldo. It may look as if Waldo was doing nothing but standing around while other elves did all the work, but Waldo has been given the job of Chief Christmas Eve Elf Observer. He was given that job after he had accidentally wrapped himself into a gift box and been left under a Christmas tree one too many times. Santa watched Waldo watch the elves for a while. Then he went home to Mrs. Claus.
"Those elves are marvelous," he told her. "I thought I'd be pitching in with the rest of them to get the sleigh loaded, but it seems I don't have to. Instead, I can come home and relax with you until I have to leave." He sat down at the table. "How about a snack?" he asked.
Mrs. Claus was ready. As he sat, she placed a plate in front of him--filled with vegetables!
"Ho ho ho!" he cried. "This is wonderful! I'll have my fill of cookies tonight! Thanks for such a healthy snack!" and with that, Santa took a big juicy bite out of a carrot.
Shortly after you go to bed tonight, Santa will leave for his trip around the world! When you wake up tomorrow, it will be Christmas! Merry Christmas from the North Pole Times! Be sure to check in tomorrow for a special note from Santa!