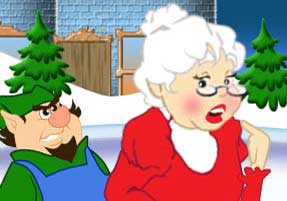 Mrs. Claus crunched through the deep snow with determination. Toby Elf hurried behind her, scrambling to keep up. "I'm not really sure what we're doing out here, Mrs C!" he called. "But whatever we're doing, can we do it a bit slower"
"We don't have time to go slower," said Mrs. Claus. "With Santa stuck in outer space, and the elves going on strike because they don't want to eat their vegetables, there's not a lot of toymaking going on at the North Pole! I think I have a solution!"
"Out here?" asked Toby. "This is the wasteland! There's nothing out here but ice and glaciers and snow and...." Toby's voice stopped at the same time as his feet. He and Mrs. Claus were standing in the shadow of something big, furry, and abominable.
"Snowmen!" Mrs. Claus finished Toby's sentence for him. "That's right, Toby! I'm going to ask the Abominable Snowmen--or Yeti, as they prefer to be called--to work for me!"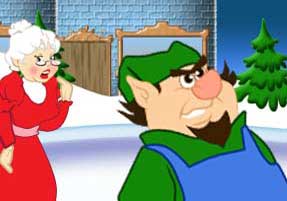 "Gee, Mrs. Claus, are you sure that's a good idea?" asked Toby. "These fellows aren't really good with tools. They'd rather eat a hammer than use it!"
"They may be big and strong, but I'm sure they'll work out just fine once I explain things to them!" said Mrs. Claus. "And right now, I need all the help I can get!"
Will the yeti be helpful? Or will they be abominable? Will this be a Christmas without toys? Keep reading the North Pole Times to find out!