During the Christmas season, keeping kids focused can be a difficult undertaking. It's filled with the excitement of getting presents, vacations, and family get togethers, caroling, shopping and, of course, Santa Claus. Harnessing all that excitement and energy can also be difficult for teachers. However, the season also presents magnificent learning opportunities that can be enjoyable for both student and teacher.
The North Pole Times offers a number of resources and fun-filled activities to integrate into your classroom. From simple coloring pages to mystery solving exercises. We offer worksheets, word search and crossword puzzles as well as a number of creative Christmas crafts for kids.
But it doesn't end there. Our storylines offer children the opportunity to learn the traditions of different cultures and how other people celebrate the holidays in Fly-About Franny Fridays, or the importance of helping others in Terrific Task Tuesdays.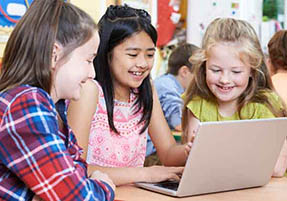 They can see where the elves get their education in Saturday School of Wonders or follow the case-solving clues on Super Secret Sundays.
For the sports fans, the Reindeer Games embodies the importance of physical activity as Santa's sleigh team prepares for the Big Night. Our main storyline follows the day-to-day adventures of Waldo Elf who is sort of a cross between Rudolph and Charlie Brown. He has a tendency to inadvertently cause disruption at the North Pole but somehow seems to come out the hero in the end. The North Pole Times is a unique website filled with tradition, imagination, and creativity.
New storylines begin Thanksgiving Day (US) and run through Christmas Day. Keep your students engaged this holiday season while embracing the Spirit of Christmas. Expose them to a variety of cultures and spark that imagination and creativity. As we celebrate another season serving millions of households around the globe, we remain committed to maintaining a safe, fun and educational Christmas experience that is free of advertisements and fees.
Teachers and Christmas and Kids, oh my! A great way to keep them busy and learning at the same time.