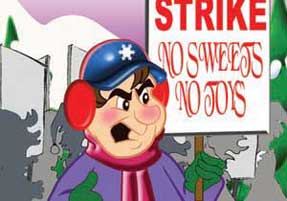 In a startling development, Santa's Elves have walked away from the workshop to protest the change in their snack foods. Mrs. Claus has just recently changed their snacks from their usual candy, cakes and cookies, to a healthier diet of vegetables and fruit.
"We have always had sweets and treats as our snacks, and we think it's not fair of Mrs. Claus to change that without talking to us about it first," said Freddy Elf. "When I'm working on making action figures for hours at a time, I don't want to take a break and eat carrot sticks! I want something with some chocolate on it!"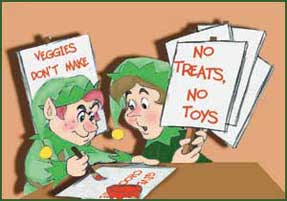 Mrs. Claus explained that the reason the snacks were changed was because the elves were getting tired. "All that sugar gives them a short boost, but a little while later, they were all half asleep! If we're going to make enough toys for Christmas, we need to be at our best, and we weren't going to make enough with them taking naps in the afternoon!"
All this is happening at the same time Santa is stuck in orbit. A rescue rocket is being built to bring Santa back in time, but will he have any toys to deliver on Christmas Eve? Keep reading the North Pole times to get the latest on this developing story!