BOOOOOM! The sound of the rocket blasting off from Gizmo Elf's workshop could be heard all over the North Pole! All the elves dropped what they were doing and rushed to the workshop. They found Gizmo Elf standing in the middle of the floor, exactly where a spaceship was not, looking at a spaceship-sized hole in his roof.
"This is not good," he said. "Not good at all."
"What happened? What was that noise?" asked Bernard Elf. He was Santa's #1 elf, and he felt he should be informed of everything.
"I was building a spaceship for Santa to use for delivering presents to the International Space Station, and somehow Santa and Waldo blasted off in it!" said Gizmo. "They must have pressed the 'up' button!"
"Well, why don't they just land it?" asked Bernard.
"They can't" said the inventor elf, holding up a big red disc. "I'm holding onto the 'down' button. I was just about to install it!"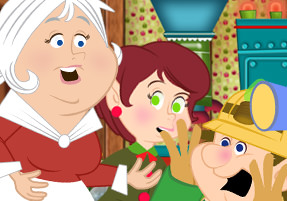 Mrs. Claus came into the workshop, and the elves told her what had happened. "Well, can't you build another spaceship to go get them?"
"Yes, I can," said Gizmo, "but the only way I could build it fast enough is to switch the Appendapulator from 'Toy making' to 'Spaceship making.' I would be able to get him back before Christmas then!"
"But if you use the appendapulator to make the spaceship, it won't be able to make toys!" said Bernard. Gizmo nodded sadly.
"Let me get this straight," said Mrs. Claus. "If we rescue Santa in time for Christmas, we won't have any presents. If we make the presents in time for Christmas, we won't have Santa to deliver them. Is that right?"
Gizmo nodded again. "Like I said," he said. This is not good at all!"
What will the elves do? What good would having Santa be if there were no presents for him to deliver? What good would the presents be, if there's no Santa to deliver them? Keep reading The North Pole Times to find out!