Hey kids! I'm Fly-About Franny back for another year at The North Pole Times. My job is to fly around before Christmas every year checking to see how boys and girls around the world celebrate Christmas. Santa says it's a very important job or he would end up delivering the wrong toys to the wrong children.
For our first report this year, I'm heading off to Hawaii. Hawaii is part of the United States, but it's over two thousand miles away from the rest of the country. Hawaii is a group of 8 islands in the Pacific Ocean, making it one of the last places the sun rises on Christmas morning.
Many people in Hawaii speak both English and Hawaiian. The words "Mele Kalikimaka" mean "Merry Christmas". Try saying it slowly, then say it faster! People celebrate Christmas differently here than the rest of the United States. Hawaiian houses may not have fireplaces for Santa to come down, but I was surprised to learn that they do have snow in certain areas. Hawaii has some very large mountains where it is cold enough to snow at the very top. Santa says that instead of trying to sled down the mountains he usually arrives in Hawaii by canoe.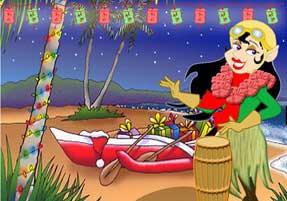 The Christmas dinner is also slightly different in here. Most families have lu'aus, where they eat sushi, fish, tamales and coconut pudding. At many lu'uas everyone in the neighborhood comes over to the family with the biggest yard, so everyone can celebrate together. After dinner many kids go to the beach to try their new surf and boogie boards that are on Santa's list. Bet you didn't know that the North Pole elves made those too?
Now that we've discovered how kids in Hawaii celebrate Christmas, when Santa visits, he'll be able to give the boys and girls great toys and gifts. I'm now going to turn my sleigh east and head to Brazil for next Friday's report. Remember come back every day to visit us at The North Pole Times for new stories.