With Santa launched into orbit, Mrs. Claus has taken charge. After all, someone has to! She ordered Gizmo to change the Appendapulator from the great toy-making machine of the North Pole to the great rocket-making machine! And she had Toby Elf get all the other elves to start making toys by hand--just like they did before Gizmo Elf invented the Appendapulator.
Now all she needed to do (for now) was to contact Santa to tell him what was going on, and to expect a rescue soon. "We can't do that, Mrs. Claus," said Gizmo, the Chief Inventor Elf (and the builder of the spaceship that blasted Santa into space). "I hadn't hooked up the radio. I wasn't planning on anyone flying it this year."
"Isn't there any way to contact him?" asked Mrs. Claus.
"You've got mail," said Gizmo.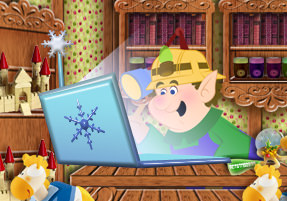 Mrs. Claus looked puzzled. "How did you say that without moving your lips?" she asked. "No, that's just my computer," said Gizmo. "I have it say that whenever I get an e-mail." Gizmo tapped a key on his computer, and a slow smile spread across his face. "It's from Santa!" he said. "He had his laptop with him when he launched into space!" "Oh, thank heavens!" exclaimed Mrs. Claus.
"He says: 'I still have my wow-wee-whooper-do laptop, so I can talk to you this way—as well as check the wish lists for toys,'" said Gizmo. "Wow! It's almost like he's listening to us!"
"You've got mail!" said the computer again. Gizmo tapped the key again.
"Oh, yeah," said Gizmo. "Santa says 'Of course I am. Remember: I see you when you're sleeping..."
Will emails from Santa keep the North Pole running smoothly? Keep reading The North Pole Times to find out!