Hi kids, this week I decided to visit some friends of mine to help me with my report to Santa. I'm with two of my very special helpers in a hospital in Reykjavik, Iceland. Iceland is a lot closer to the North Pole than either Hawaii or Brazil, so I'm glad to see snow during December. This week I'm visiting two of my friends, Fjalar, age 10, and his little sister Katrin, age 8. We're helping sing Christmas carols and read stories to kids who have to stay in the hospital through Christmas.
While I'm here, they're also telling me about how kids in Iceland celebrate Christmas. They look forward to it every year and celebrate all through the month. Iceland boys and girls start counting down to Christmas on the first day December using an Advent Calendar. In school they make decorations for their home and for their classroom. Last year Fjalar's class had a Christmas party where they used candles to decorate their classroom and made presents for their parents. Then they had holiday snacks and sang and danced around a Christmas tree. At the end of the day, every class got together for a play and a visit from Santa Claus. It wasn't really Santa, because it was a few days before Christmas and Santa was hard at work at the North Pole, but the kids could tell it was the principal making pretend.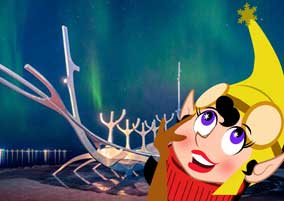 Katrin tells me that families start to celebrate Christmas on Christmas Eve, when everyone gets dressed up to go to dinner. After dinner the kids get to open up their presents. Christmas day is spent visiting with other members of the family, having another big Christmas feast and playing with their toys. Fjalar says that people in Iceland like to celebrate so much that they continue to have a lot of parties on the day after too.
Since I'm already here visiting Fjalar and Katrin, Santa asked me to have them write out their Christmas list. If you haven't written out yours yet, you can do it now. Santa needs those soon so the last few toys can be made. Thanks for joining me in Iceland this week. I'll see you next week for one last Franny's Friday before Christmas!!!