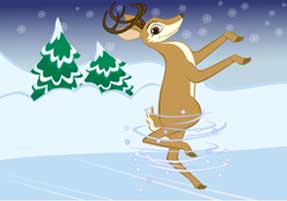 Welcome back to the Reindeer Games!
After a grueling, four-day Around-the-World Marathon, the reindeer head out to the skating rink for our fifth event, the Figure Skating competition.
Few have ever seen reindeer on skates, and so the seats at the Hoojamawazit Skating and Ice Cream Palace are packed for this highly unusual and very popular event. "You wouldn't think a reindeer could skate well, but these deer can do just about anything," says Rudolph. "Do anything but sing, I suppose." Indeed, the reindeer have many talents, but you won't see them on stage for the next edition of North Pole's Got Talent, that's for sure. But you will see them at the Palace on skates.
Let's head out to the action. As many fans know, the "figure" in figure skating comes from the long-standing tradition of creating actual figures on the surface of the ice with some very skillful skating.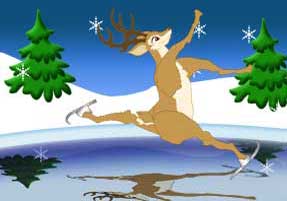 Nowadays, the sport looks to spectacular leaps and jumps as the heart of the competition, but the Reindeer Games respects tradition and still holds a figures competition on the first day.
And that's where we are today. "Yes, indeed," says Rudolph. "Each reindeer will skate a Christmas figure into the ice and the Elfian judges will rate them all." And so Donder, Dasher, Prancer, Dancer, Vixen, Comet, Cupid and Blitzen have taken to the ice and created some very beautiful figures. "Among other things, we have a Christmas tree, a wreath, a stocking stuffed with goodies, as well as Santa's sleigh," says Rudolph. "An excellent job by the deer."
The reindeer do indeed have talent and will show more of it tomorrow when the Reindeer Games continue with the next round of the Figure Skating event.
Check back to see what happens!