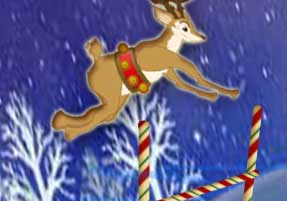 Welcome back to the Reindeer Games! Today, we begin the first event of the games – the High Jump.
And so all of the many good folks of the North Pole have packed snugly into Santa's Workshop Arena -- which still has no seat licenses -- to see the first exciting event. The many fans in the sellout crowd have come out to see the Great Eight Reindeer – Dancer, Prancer, Cupid, Vixen, Donder, Dasher, Comet and Blitzen – show their magnificent and fantastic talents, as they get ready to lead Santa's sleigh all over world on Christmas Eve.
Over the next 22 days, our famous reindeer will compete in eight events – the High Jump, Long Jump, Sprint Race, Around-the-World Marathon, Figure Skating, Speed Skating, Obstacle Course and the Snowboarding event.
And bringing all this fun and action to you will be the North Pole Times, as well as the Santa Entertainment and Sports Network (SESN), with Rudolph-the-Red-Nosed Reindeer providing our expert commentary. Rudolph unfortunately won't be participating in any reindeer games.
Keep in mind that our reindeer have amazing and dazzling physical talents (and they are very smart too!) They can run very, very fast, jump miles high and of course fly at any time, day or night, in just about any weather.
That means, of course, we must have some rules. And so for the High Jump, the one rule to remember is no flying! Of course, the reindeer would never think of breaking or bending the rules, and so there's no real concern here.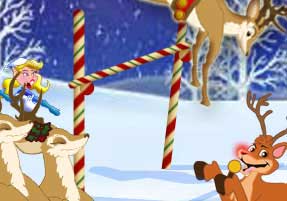 And so we're ready for the first event. Manny Elf, head of Reindeer Games course construction, has led his elves in building a fantastic high jump area, and the first leap will be at one-half mile high! Oh my, that's just amazing.
Up first is Donder. He takes a nice approach and is up and over the bar easily! Well done by Donder. Next up is Dancer. And she is over the bar, as well, with no difficulties.
"We're off to a great start," said Rudolph. "The deer are ready to play!"
And Vixen, Prancer, Comet, Blitzen, Dasher and Cupid follow with very good jumps too, and so every deer is over the bar at one-half mile.
"Well, that means we'll have to raise the bar up to one mile," said Rudolph. "We'll just keep raising the bar until we have a winner!"
Yes, indeed, and remember that the winner of each event will earn a gold medal to be awarded by Santa during the closing ceremonies. And so check back tomorrow to see who will win our first gold medal of this year's Reindeer Games!