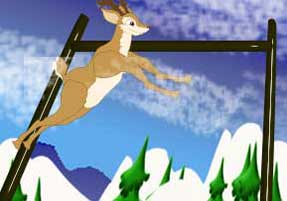 It's the second day of this year's Reindeer Games and the final day of the High Jump competition. Dasher, Donder and Dancer were eliminated yesterday but the rest of the Great Eight are looking for gold.
"It just wasn't my day" said Donder. "I just couldn't get over the top." "I dashed, and darted but it wasn't enough today. You can't win them all" explained Dasher. Dancer said "I think it was my break-dancing that did me in. But I looked GREAT even if I lost."
The bar was set at 25 miles but that was no problem for Cupid, Comet and Vixen. Prancer pranced and Blitzen, with his mighty power, just couldn't clear. It was up to Vixen, Comet and Cupid at the next level of 30 miles high.
Vixen was up next but just had a bad day. "I just had a bad day" Vixen explained. "I feel good about my chances in the other games though."
At the great height of 30 miles, both Comet and Cupid amazingly jumped with miles to spare.
It's down to the final two. The bar has been move up to 40 miles, skipping the 35-mile mark. Cupid was first up. Known for her grace, she gets her start. Nice and smooth… picks up speed as she makes her attempt. Ten – fifteen – twenty – thirty five miles high. As she reached the forty-mile mark, she flips upside down and clears the bar by the hair on her chinny-chin-chin.
Now it's Comet. Known for his great speed (like a comet) he gets ready – sets and goes! With a huff and a puff and a wow-we-whipper-do, he blast off towards the highest mark of the year. BOING!! He catches the bar with his back hoof.
"Ohhhhhhhhhhhhhhh!" the sold-out crowd at the Workshop Arena roared followed by really, really loud clapping.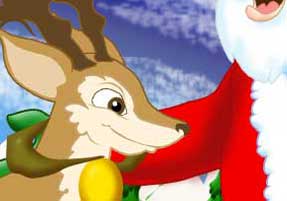 "It was a lot of fun but makes me realized I need more exercise." said Comet. "All of us, including all the kids around the world should play really hard for at least an hour a day."
"I'm honored." Cupid explained. "To win a gold medal competing against my team… the best team in the whole wide world is simply an honor."
Well we know who can jump the highest this year, but who can jump the farthest?
Check back tomorrow for the start of the Long Jump competition.