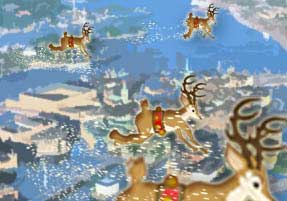 Today, the Around-the-World Marathon heads to the finish line after a four-day trip to every corner of the earth.
The winner will be the fourth gold medal winner of the games. So far, our winners have been Donder in the High Jump, Comet in the Long Jump and Vixen in the Sprint Race.
Following the Marathon will be the Figure Skating, Speed Skating, the Obstacle Course and Snowboarding events. "It's been an exciting competition so far," says Rudolph. "And today should be great." We last saw the Reindeer in Australia where they rested following the end of the third leg. Today the race continued through Africa, the Middle East and Europe. It's been a difficult challenge for the deer, but the race will make sure all are ready for the big trip on Christmas Eve. Let's head out to the race – now is in the final stretch!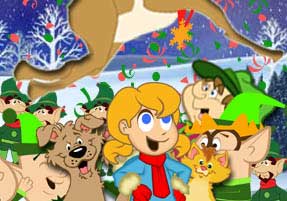 "The reindeer are almost at the North Pole, and they're in sight!" says Rudolph, "what a finish it will be." Leading the pack is Prancer, followed by Dancer, Dasher and Cupid. Just a few lengths back are Blitzen, Donder, Vixen and Comet. "After so many miles, it just amazing how close they are," says Rudolph. Yes indeed. The reindeer are now close to the finish line at Santa's Workshop Arena. The crowd has jammed its way in to see the final stretch. Thousands have gathered for the big finish. Just a few miles away, it's now Dancer, followed by Cupid and then Dasher and Prancer. Still too close to call!
"The deer are now flying into the arena," says Rudolph. "Only a 100 yards to go!" Heading down the stretch, the lead is still changing hands! It's Cupid and then Prancer and now Dancer's in the lead. What a finish! Down to the wire and through the tape, the winner is … Prancer! She wins the fourth gold medal of the games. Dasher takes second, and the rest are all close behind.
What a fantastic race!
Check back tomorrow when the Reindeer Games continue with the first round of the Figure Skating event!