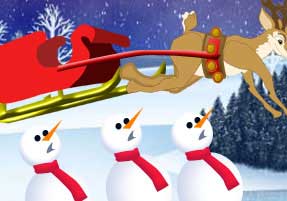 Today, we have the second day of the Obstacle Course, our seventh event of the games.
After the Obstacle Course, the reindeer will compete only one more time, in the Snowboarding competition. So far, we've had six gold medal winners -- Donder in the High Jump, Comet in the Long Jump, Vixen in the Sprint Race, Prancer in the Around-the-World Marathon, Blitzen in the Figure Skating competition and Dasher in the Speed Skating event.
The reindeer will have a difficult second day in the Obstacle Course. They begin in Santa's Workshop Arena where they will have to jump over three snowmen, climb to the top of the Arena, hitch themselves to a sleigh and fly to Paris and back.
Why Paris? "I don't know," says Rudolph. "Sometimes Manny comes up with some crazy things for the reindeer to do. I hope the nice people of Paris won't be shocked when they see the reindeer flying over their nice city."
Indeed. Let's head out to the action. First up is Vixen. She's at the line and ready to go. And she's off! Vixen quickly jumps over the snowmen, and she's quickly up to the top of the Arena. She picks up the sleigh and she's whizzes away! "Good effort from Vixen," says Rudolph. "Let's see how she does in Paris." Vixen shows the great speed and talent of the reindeer, as she's to Paris and back in just 23 minutes! Very good effort from Vixen.
Next up is Dancer. She's ready and she's off. Dancer is up and over the snowmen and quickly up to the top of the Arena. And she's off! The reindeer love to fly and do it very well. A trip to Paris is really a fun thing for them, and Dancer shows us why. She's back in just 22 minutes. A great effort.
"The reindeer look like they will be ready for Christmas Eve for sure," says Rudolph. Donder, Dasher, Cupid, Comet, Blitzen and Prancer also do well in this leg and all move on to tomorrow's final round.
All eight reindeer will have one more day of the Obstacle Course, and the winner will earn the seventh gold medal of the games.
Check back tomorrow to see who grabs the win!