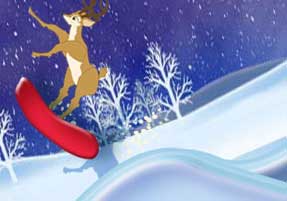 Today, the reindeer compete in the final day of the competition, and it's been a very good Reindeer Games so far.
The reindeer have tried hard, and the effort should prepare them for the big ride on Christmas Eve. The fans at the North Pole have enjoyed watching the deer show their many talents.
"The deer are very talented, yes, but let us remind our readers that play is for everyone," says Rudolph. "You need not be as fast or graceful or as powerful as the reindeer to play your favorite games. Everyone should get out there and try something. It's fun and it's surely good for you too." For sure, Rudolph is correct. And with that in mind, we head out to the final round of the Snowboarding event.
Yesterday, Dancer, Donder, Blitzen and Dasher each won their Slalom race and will try the Big Air competition today. What is Big Air? Well snowboarders like to use some funny words, but Big Air just means that the reindeer will ride down a hill on their snowboard and perform tricks after taking some very large jumps. The longer they're in the air during the jumps, the bigger the air.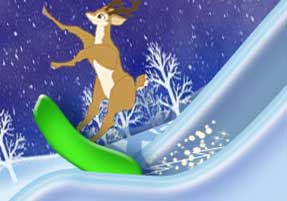 "This should be exciting," says Rudolph. "A great final day at the games." Up first is Dasher. He's ready to go and he's off. Dasher heads down the hill and picks up speed. Oh my he's moving fast as he heads for takeoff. He's up in the air! "A beautiful jump from Dasher, a perfect triple snapper-popper with a half twist and back flip," says Rudolph. "That's going to be tough to beat." The Official Elves score that one a 9.7. Next up is Blitzen. He's heading downhill, and he's off. A nice jump from Blitzen – he does a triple toaster oven with three back flips. Beautiful job. And that's a 9.8. Blitzen takes the lead!
And now for Donder. He's heading down the hill and moving really fast. He's up the slope and he's off. "Fantastic jump from Donder," says Rudolph. "A perfect double haymaker with a half twist and three back flips. I don't think I've ever seen that one before." Donder scores a 9.9! He's in first place. And now for Dancer. She's the last deer to go. This is it! The gold medal is on the line. Dancer moves quickly down the hill, and she's at the takeoff. She's off! "Oh my," says Rudolph. "Dancer does a triple whipper-snapper with four twists and a backflip. Surely that's never been done before." The Official Elves haven't seen that one, and they're not quite sure what to do. They huddle and try to figure out Dancer's score. What will it be? They break the huddle and post the score. It's a perfect 10.0! Dancer earns the best possible score, and she is the gold medal winner for Snowboarding. A great job by Dancer and all the deer.
Well, that's it for the games this year, but check back tomorrow for our closing ceremonies when we honor all the reindeer for their efforts!