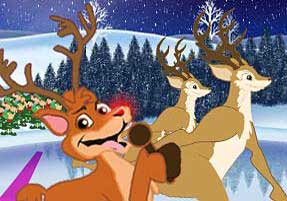 Today, Dasher and Blitzen will compete in the final round of the Speed Skating competition, and the winner will earn the sixth gold medal of the games. Surely both deer skate very fast -- much faster than most of us. But they've spent many years practicing and have worked very hard to be good skaters.
"If you don't skate well or have never skated at all, don't be afraid to try," says Rudolph. "If you live where it's cold, get out there and skate if you can. It's good exercise and great fun. And the more you try it, the better you will do. And you might meet some good friends, too. The skating rink is always full of new people to meet."
Meanwhile, let's head out to the Hoojamawazit Skating and Ice Cream Palace. Only two deer remain, Dasher and Blitzen, and they will square off for the gold medal.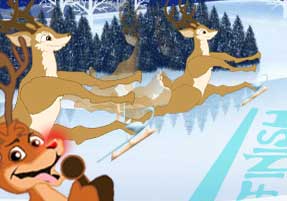 Once again, the good folks of the North Pole have jammed their way into the Palace for the excitement and fun of the Reindeer Games! Well, we're ready to go! The deer are at the starting line, aaaaaaaaaaand they're off! Both Dasher and Blitzen zoom out of the starting blocks and hit top speed right away. After the first lap, Dasher takes a slight lead, but Blitzen is just a hair behind. Heading into the second lap, Blitzen edges in front, but Dasher is right there just a nose behind.
"It's going to be close, as usual," says Rudolph. "The deer are moving like lightning!" Heading through the third lap and down the stretch, it's too close to call! Across the finish line, both deer are right there, but it looks like Dasher wins by nose, and Blitzen is second.
The Official Elves confirm the finish and Dasher is the sixth gold medal winner of the games! It's been a fun Reindeer Games so far, and please check back tomorrow when the games continue with our seventh event, the Obstacle Course!