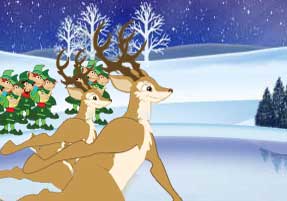 Today, the reindeer begin the sixth event of the Reindeer Games – the Speed Skating competition.
After showing grace and skill in the Figure Skating event, the reindeer now must show blazing speed. "Well, the reindeer can do just about anything," says Rudolph. "And yes, they can skate fast too."
The winner of the Speed Skating competition will earn the sixth gold medal of the games. Our first five winners are Donder in the High Jump, Comet in the Long Jump, Vixen in the Sprint Race, Prancer in the Around-the-World Marathon and Blitzen in the Figure Skating competition. The many good folks of the North Pole have packed the Hoojamawazit Skating and Ice Cream Palace for the first round of the Speed Skating event.
"Well, I must say the Palace looks different today," says Rudolph. "It seems like some of the seats are missing. That's strange. I wonder why the seats would be missing. "
That's interesting, and perhaps we will find out more about the missing seats soon. Meanwhile, the Speed Skating first round is about to begin. The reindeer will race around the skating track three times, and the top four finishers will move on to tomorrow's semifinals. They're at the starting line and ready to go. The Official Elves are ready too.
And they're off! "The deer are off to a flying start," says Rudolph. "Yes, they're moving very fast." All eight are moving well, and after the first lap, it's too close to call. All eight deer are near the lead. Moving into the second lap, Comet takes a slight lead followed by Blitzen, Prancer and Dasher. Just a tad behind are Cupid, Donder, Dasher and Vixen. "It's going to be close race for sure," says Rudolph. Heading into the third and final lap, it's still any deer's race. Now coming down the home stretch it's going to be close for sure. And across the finish line, it is indeed very close.
The Official Elves head for the video room and take a look at the super slow-motion replay. After careful review, the top four are Dasher, Blitzen, Comet and Prancer. They will move on to tomorrow's semifinal round.
Check back to see which deer advance to the final round!
And after the Speed Skating, the Reindeer Games continue with the final two events – the Obstacle Course and Snowboarding.