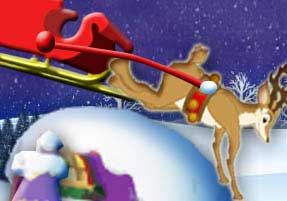 Today, we begin the second event of our competition, the Long Jump.
Yesterday, Donder earned the first gold medal of the games after he won the High Jump with a leap of 4 miles! After the Long Jump, the reindeer will compete in the Sprint Race, the Around-the-World Marathon, Figure Skating, Speed Skating, the Obstacle Course and Snowboarding. All the events help to prepare the reindeer for the Big Night on Christmas Eve, but none quite like the Long Jump.
"Each time the reindeer take off with Santa's sleigh, it's kind of like the Long Jump," says Rudolph. "So this event is very important to the deer. They really want to do well." Rudolph is an expert long jumper these days, but not always. "I had to practice and practice for a long time," Rudolph says. "When I first started, I couldn't jump more than a few inches. I felt so bad inside. But I kept trying. For some reason I kept trying.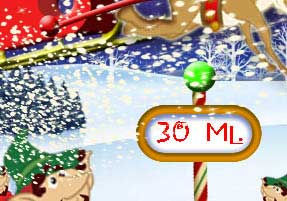 "Soon, I could jump a few feet, and then a little bit more and more until I could jump about 10 feet. Suddenly, I stopped right there. I was stuck on 10 feet for a long time. Again, I thought I would never do any better. I thought I would always be a short long-jumper. "But I kept trying, and suddenly I could do 50 feet, then 100 feet and then 1000 feet and then 1 mile. Wow, I told myself. I can do it. Yes, I can do it!"
As can our famous reindeer, who can leap many miles and miles. And that's what we'll see as we head out to the competition at Santa's Workshop Arena.
Each deer will take a shot at the jump and the Official Elves will measure. Let's see what the results are for today. Leading the way are Blitzen, Vixen, Comet and Prancer with jumps of more than 2 miles! Wow, what an effort. Those four will return tomorrow for the final round of the Long Jump.
Check back to see what happens.