Hello, friends!
It's almost time for Christmas!
And for many of us, it's a time to see people we care about. Often, we receive gifts wrapped in colorful paper. I like bright red paper with Santa Claus on it the best! I guess I'm partial given where I work here at the North Pole, but nothing says Christmas like Santa.
I love the sound of tearing the wrapping paper or opening of the gift bag to reveal the gift. It's always a surprise to see what's underneath, because you never really know. Do you?
You may have given your Wish List to Santa in a letter or email. You can certainly guess what a gift is, but you until you see it, you aren't 100% sure.
Now here's the part that's important. No matter what you receive as a gift, it's important to remember that someone chose that gift for YOU! How wonderful is that!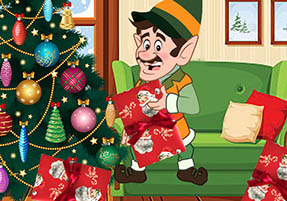 You are special and unique, and someone selected something they thought you would enjoy or could use or need.
Whether it's what was on your list or not, please be sure to say "Thank you" if the person who gave you the gift is with you. That way, they know you appreciate it as much as you do.
If the gift is from Santa, close your eyes and envision him and just say "Thanks" in your mind. Or you can look up and just wink ?? He'll know. Trust me.
I know that reading my wEditorial is not as fun as opening gifts, but I wanted to just send you a quick reminder about being a grateful receiver. If you're giving a gift to someone, enjoy seeing their reaction when they open your gift to them.
And you don't have to exchange gifts to celebrate Christmas. There's a saying that goes something like "your presence is present enough", meaning being together is the greatest gift of all.
No matter how you celebrate, I wish you a Merry Christmas!
For goodness' sake,
Eddie Elf